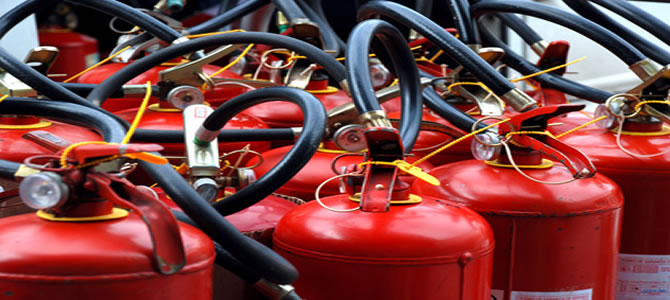 Fire Extinguisher Installation & Commissioning
Fire Extinguishers 2 You offer an optional installation service which includes the calculation of the fire rating for your premises, hanging fire extinguishers in designated areas, completing service labels and providing certification to ensure compliance with the fire safety order. All work is carried out by highly qualified engineers.
Call us on
0800 862 0447
if you need further information -we are always happy to help.
Regular Fire Extinguisher Servicing & Maintenance
Fire Safety Legislation requires that a fire extinguisher service should be carried out at least once a year. For companies the simplest and most reliable way of ensuring this, is to set up a fire extinguisher maintenance contract. Fire Extinguishers 2 You also offer annual maintenance agreements for servicing your fire extinguishers as per BS5306 guidelines. This ensures that your fire extinguishers will remain in working order, good repair and will function correctly in an emergency. We will also happily safely dispose of old fire extinguishers from your premises.
Specialists in fire extinguisher maintenance for businesses of all sizes, we offer genuine advice, reliable service and fixed price fire extinguisher servicing with no hidden extras. We can service all types of fire extinguishers all at fixed prices with no hidden extras. To get prices and arrange fire extinguisher servicing call
0800 862 0447
.
Where to Install Fire Extinguishers
All fire extinguishers should be installed by a competent person. They should normally be sited in prominent positions on brackets or stands usually on escape routes or similar locations on all floors such as room exits, corridors, stairways, landings and lobbies. They should normally be mounted with the handle 1m from the floor and the maximum distance to travel to a fire extinguisher should be no more than 30m.
All fire extinguishers should be serviced annually to BS5306-3 standards by a competent person. When a service has been carried out it is important that information should be entered onto the servicing label including: date, type of service,weight, engineers ID, date of next discharge test. A certificate of service should be provided.